© Trevor Danby 2016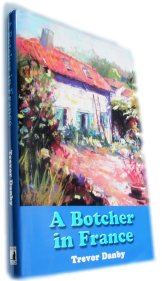 Those who knew and loved Trevor will be sad to learn that he died on November 4th 2016. He had health problems over the last few years, but was very brave and still full of life right to the end. We celebrate his life and his faith which sustained him throughout. He was an inspiration to so many, and will be remembered with great affection.
Trevor Danby was educated at University College of North Wales, Bangor, where he read English and adopted his Professor John F Danby's surname to enter the acting profession.

He has had a long and successful career as actor, director and writer in theatre and television.

In 1986 Trevor and his wife, Karal, whom he met at Granada TV, bought an ancient hovel of undetermined origin in France. Over twenty years, they spent five months of the year there, in between writing commitments.
Trevor's book A Botcher in France is a funny and sometimes moving record of Trevor and Karal's on-going test of endurance and their encounters with all things Charentais.