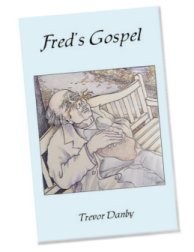 ĎFredís Gospelí

Tim, a naive young art dealer from the South has a bizarre encounter with Fred, a canny old Northerner, in a Lancashire municipal park, and his life is turned upside down when he is brought increasingly into contact with the old manís eccentric lifestyle. We accompany Tim as he enters the household of Fredís lady friend, inhabited by old lags and social misfits, and see him accept their optimistic faith and philosophy. Fred eventually introduces Tim to Alicia, an attractive and passionate young woman, who wins his heart with a shared passion for art and life.
A huddle of unconventional characters accompany Timís attempt to sell art reproductions to a Philistine world. Finally, Nathan, the owner of a book shop, offers him a whole new life where he can judge through his feelings instead of trained intellect.
A story of self-discovery, new found maturity and true love. ending with Timís inheritance of Fredís legacy.
A novel full of comedy, warmth and a challenging view of life.