These groups meet regularly for Bible study, discussion and prayer in the homes of members of the church family.
A service of Holy Communion is held each Friday morning at St. Mary's & St. Nicholas' Church at 9am.
These occur throughout the year, sometimes with a definite purpose, and sometimes just to share fun. In the past there have been walks, quizzes, concerts, barbecues, ten-pin bowling, picnics, parties....etc.
House fellowships aim to provide the opportunity for people to widen their knowledge and develop relationships with each other, through discussion and reflection with others in informal and relaxed surroundings.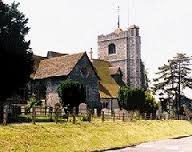 On the first Friday of each month we have "Time for Tea" to offer a chance to share some friendship and fellowship, over a cup of tea with lovely cakes. We often have a speaker, or some entertainment.

Come and join us from 2:30pm to 4:30pm.
These occur on Mondays, Wednesdays and Fridays, in members homes.
During Lent (the six weeks leading up to Easter) there are house groups for members of all the churches. Each year a suitable course of study material is chosen and it gives the opportunity to increase understanding between the churches. These are held during the daytime and evenings and details are available from the various churches in the weeks leading up to Lent.