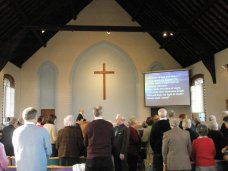 Most Sundays, we all worship together for about 20 minutes.

There is a box of toys and space to roam at the back of the worship area, if any of our smallest participants need it.

After about 20 minutes, school-age children go to other rooms for LMC Discoverers. Children are also welcome to stay in the service, if they prefer.




We meet with the other uniting churches in Leatherhead for a contemporary service on the fourth Sunday of each month. This service is called "New Fire", and gives the opportunity to explore contemporary expressions of worship and praise. This is held at the AllSaints Coffee Shop, in Kingston Road. Parking facilities are at Trinity School. We welcome from 6pm. Come and have a coffee with us before we worship.




We have a reflective service at 6:30pm on the second Sunday in the month. We celebrate Holy Communion at this service.



We worship together each Sunday at 10:30am.

The morning service is a mixture of traditional and contemporary worship, with a lively more informal character.

Holy Communion is normally celebrated once a month.

Cups of coffee or tea are served after the service, to which everyone is invited.

We use a projection system for the words of hymns and songs, but have hymnbooks available for those that prefer it, we also have a loop system for the hard of hearing.