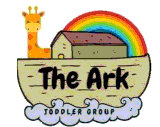 The Ark Toddler Group runs two slots every Friday morning during term time from 09:30-10:30 and 10:30-11:30. It costs £1 per family. Please contact Joycey on the email below to book your place.

You can find resources for your toddlers in the arts and craft section on this page.
There are also some pre-recorded Bible stories on the
LMC Children's and families page.


If you would like to be added to our email lists so that we can keep you aware of any news please contact Joycey on the email address below.